Are you looking for the best way to share contacts with your colleagues and friends? Or do you want to simply share contact between two accounts that you own ? Or you want to build a Global Contacts List ?
Unfortunately there is no feature that is built into Gmail that allows you to do this. One straightforward way of course is to Export your Contacts as .csv file from one account  & import  them into another account. You can find detailed instructions here:
2. Import Contacts into Gmail
If you wish to Sync the contacts on the fly, check out these apps. Do note that these have paid versions for full functionality. 
Many users of Google Apps for Business are interested in sharing their contacts across the organization. Apptivo makes this possible with Google Contacts Sharing. With a simple set up, in Google Contacts, two new groups are created - Apptivo Employees and Apptivo Contacts. All employee and business contact information is now shared across all employees. e
FEATURES 





(1) Share business contacts company-wide 




(2) Get an employee directory or address book of your co-workers 




(3) Know email sender's complete contact details when you receive an email in gmail 




(4) Synchronize contacts company wide on all devices - iPhone, Android phone, iPad, tablet, Outlook etc. 




(5) Supports unlimited users and contacts (10 users in free plan) 




(6) Administrator can enable Google Contacts Sharing for all or only specific employees 




(7) Integrates with Apptivo CRM for full fledged CRM capability 




(8) Replication of Google contacts in Apptivo 




(9) Two way sync between Google Contacts and contacts in Apptivo's CRM 




(10) Completely free for businesses & non-profits 





BENEFITS 





(1) Keep contacts up to date company-wide for everyone 




(2) Save time and money 




(3) Have the information to reach your contacts anytime from anywhere
        Pricing Details
        Unlimited Contacts Synced Completely Free for 10 Users. Unlimited Users Available on Premium Plan.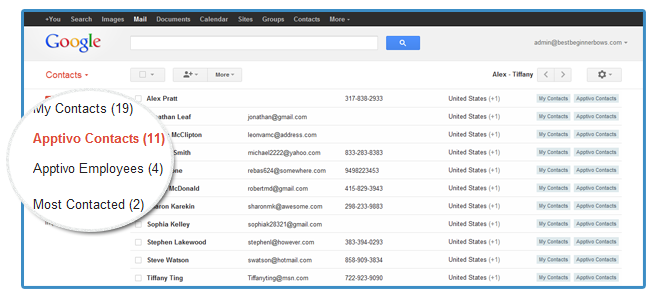 With our application you can share groups of contacts with other accounts. 
You'll find the shared groups in your GMail contact manager. 
Share contacts by simply adding them to a shared group. 
* Fine grained permission control allows you to grant read-only, edit-only or full access for each subscriber of the shared group. 
* Shared contacts get synced up to every five minutes if you are running the Enterprise Edition. 
* Sync the shared contacts to your iPhone, Blackberry or Outlook. 
* Share contacts between different Google Apps domains or with regular Google accounts. 
* Enterprise grade data protection: Install the Enterprise Edition in your own cloud! 
floreysoft will have no access to your contacts data at all! 
See application homepage page for more details and a short tutorial how to set up the shared contacts application for your own domain. 
Free 30-days trial, 1€ user/year for large enterprises, 10€/year for single user license 
Share & sync and Google contacts like you share Google Docs ! Contacts groups (address books) are shared with users who will update these contacts directly from their Google Contact interface.
You share your contact groups with specific users
Users can modify or add shared contacts
Works on mobile phones + mail clients
- Admin shares her contact groups or adress books with selected users of her domain. 
- The shared contact groups will appear in the contact page of the selected users 
- When a user updates or adds a contact in a shared contact group (directly grom her Gmail contact manager), changes are synchronized for all users who have access. 
- Updates are also synchronized on their Outlook or Thunderbird clients and their mobile phones (Iphone, Blackberry, Android, Windows Mobile...) 
With Gmail Shared Contacts you can share your adress books with anyone in your organization in a very simple way. 
With Gmail Shared Contacts, Sharing google contacts is as easy as sharing a Google Docs or a Google Calendar. 
You can now make public adress books by sharing your own adress books. 
Some of the features that set Gmail Shared Contacts apart from other contact applications include: 
- An intuitive interface that allows users, with one click, to share personal address books and contacts with specific people, the same way they share Google docs or calendars 
-Seamless integration with Gmail lets users manage their shared contacts directly from their Gmail Contact Manger, without needing to switch to a separate application or window 
- Reliable, fast synchronization of contacts across multiple accounts and devices, thanks to the Google App Engine infrastructure on which the app is hosted 
- Full unlimited dedicated support
Free 14-days trial, Paid plan based on number of users in the Domain
For more news & articles visit us at www.ceoitbox.com